7 Mistakes to Avoid While Developing a Website
If you've ever developed a website, you know how challenging it can be. Make sure to avoid website development mistakes to ensure your site goes smoothly.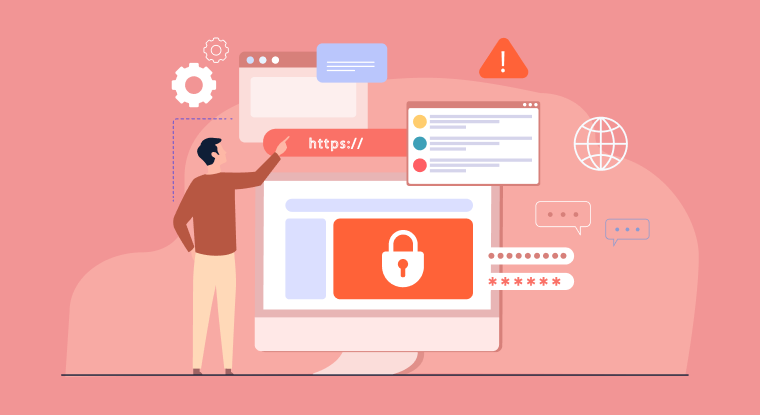 In this digital age, a compelling website is as essential to business marketing as its revenue. The internet is a normal part of our daily lives, and it has influenced the way people do their shopping. As a business, not having a good website is not an option anymore. A poor website makes firms lose customers, losing money alongside. Regrettably, there are lots of poorly furnished business websites on the internet.
"Your website is the center of your digital ecosystem, as a brick and mortar location, the experience matters once a customer enters, just as much as the perception they have of you before they walk through the door."" ― Leland Dieno
Many small business owners design their websites themselves using website-building software to have more control over the project. However, their lack of knowledge of the basics of web design reflects that they produce a poor website as a web designer works on the website user experience such as appearance, layout, and in their cases, the website's content.
Web development is the design of websites that end up on the internet. Usually, it refers to the user experience aspect of the website rather than the software development. Some rules guide web development. Most times, people don't follow them.
What is a Website Development Software?
Traditionally, websites are developed by professionals who are well-versed in the required technical skills and coding. Designing a website is intimidating for a business owner with zero knowledge and financial incapability to hire a professional. In this age, building a website for your business is now easy. You can use an online website builder to develop a website with little or no technical skills.
A website building software is a digital tool that quickly helps anyone to create a website. Irrespective of your age, career orientation, and class, you can build a website comfortably for your business online. Website development software proffers a perfect solution for individuals and small businesses to start a website without hiring a developer.
An online website builder offers a sizeable number of templates that you can use to make a decent start to your website-building journey. Furthermore, you can use their inherent website editor, one you can use to customize the template and make your website unique for your business.
Why Should You Use a Website Building Software?
A website is not optional at this point for businesses. A business website shows prospective customers that your business is legitimate and established. A website maker software helps you make a business website to attract more customers.
A website builder gets your website up and running faster than having a team of coders write up the code from the ground up. In fact, with enough motivation, you can get your website up today, right where you are. That's how easy website building software makes website development.
Using website-building software is a cost-effective way of getting a website. Programmers are expensive to hire and would most likely eat deep into your business's purse. Most small companies can't afford coders, hence why you can use a website builder. Website builders can be used for free, and also, you can buy different effects for an economical fee to make your website attract more customers.
Most importantly, with website development software, you have complete control of your website. You do not stand the risk of being logged out of your admin account. Codes are delicate, and if you temper them, you can bring your whole website down, hence how employing coders limit your control over your website. With webpage builder software, you can pour out what you want and how you feel. If you notice something that is not good enough, you know where to go through the back door to fix it.
7 Mistakes You Should Avoid While Developing a Website
I guess you would have tried to build your website by now, and you are not too satisfied with the results. Or, you have come across several websites that got you so miffed, you leave without going through its contents. I have; you must have too. As a business owner, you should avoid committing mistakes so as not to piss off your customers. They want you online, and you want them to come back after visiting your website.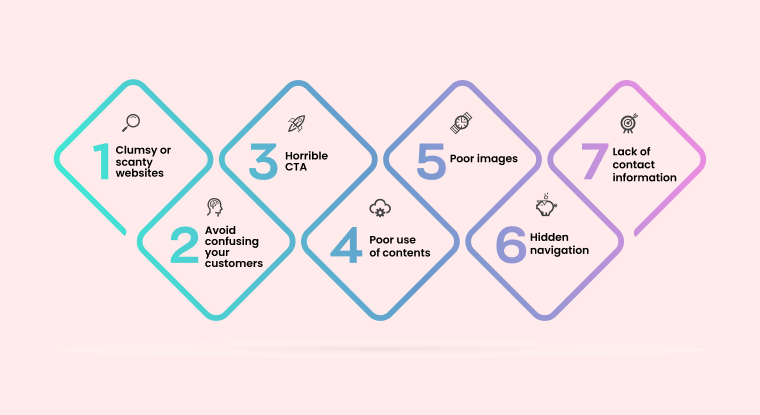 Here are some mistakes you should avoid committing. There are several other mistakes, but these seven are very important for a successful impact on your customers.
1. Clumsy or insufficient websites
You have a small window to captivate your customers. To keep them on your website way beyond the 3-seconds window, you must not make your website clouded. Only use the online best website builder to upload pertinent information about your business. Information clients can see right away. Since they have to captivate clients simultaneously, small businesses tend to cloud their interface with as much information as possible. A crowded website is never a good thing, and your visitors are more likely to exit than to engage your content.
However, do not make your website scanty. As fickle as an average audience's attention is, they have less patience. It would be poor practice to put too many gaps between your contents, and visitors have to scroll incessantly to understand your contents. Be moderate, do not give too much or too little, provide just enough information to make your customers want to stay for more.
2. Confusing your customers
It is difficult to strike a balance between the clumsiness and scantiness of your website without confusing your visitors. A confusing website has features that merge typefaces, images, color palettes, and website templates that do not relate to each other. This mistake frequently occurs with non-professional website builders.
In addition to using website development software, you can also use several online tools to gauge how confusing your website is. Also, you can use holistic ready-made themes and templates on your online website builder. These web software have templates that are measured for the optimal customer keeping effect. Using them will make your website less confusing.
3. Horrible CTA
The reason you are using website building software to build a website is to make sales and extend the reach of your business. If you end up not making sales, the whole procedure would be pointless, and the website would be needless. To make sales, you need to use the proper CTA (call to action). A call to action commands your visitor to do something. Examples include click here, get a coupon, learn more about this product, etc.
Businesses don't make sales and regret building their website. Unknowingly to them, a poor CTA would make passers-by remain passers-by, while the proper CTA, an uninterested visitor, can become a consistent customer. Without an appropriate CTA, customers visit your website only to feed their eyes and leave.
Make your CTA concise and let it tell your customers what to do in precise times. Also, don't dump CTAs on visitors immediately. Give them a few minutes on your website before telling them what to do.
4. Poor use of contents
Contents are what you put on your website for consumption by your visitors and websites. They are crucial and stimulate your marketing campaign. Contents tell your readers about you and what your business offers. So use AI Content Writer tools to create unique content. It'll be best to pay attention to the fonts you use to convey your content.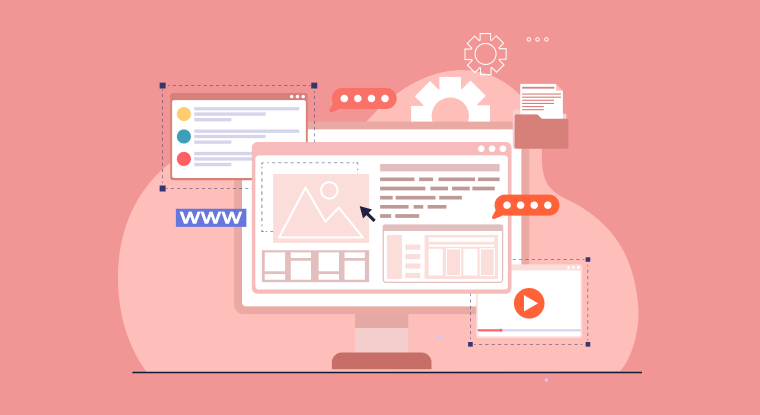 Make good use of whitespace too. Whitespaces are the spaces between design elements. Appropriate use of whitespace makes your headings stand out and your contents more readable. Also, it helps to bring the eye around your website and make your significant block elements less intimidating.
Online website builders have well-structured templates that they offer for free or for a fee. The templates have a pre-arranged formatting that you can take advantage of to use your content right. Above all, keep your content updated. Zoning out on updating your content will make your customers believe you are out of business.
5. Poor images
An image can pass more messages than a thousand words. It enables you to communicate information to your readers without having to sum it up in texts. Hence, they are an integral part of your website design. Using images that have no relevance to the business has undone the promise many business websites have.
Always use high-resolution images, as images of poor quality will muck up your website and turn off visitors. Also, if your pictures are not relevant, they would make readers lose interest.
There are spaces allocated for images in good website creator software, which you should take advantage of. Carelessly placing images in your web pages would turn off your visitors and make them not revisit.
6. Hidden navigation
If your website is challenging to navigate, there is a chance it will die soon. People don't like what gives them issues. If your visitors can't easily navigate the website, they would not recommend your website to the next person and give bad reviews.
Create Your Website with Easy Drag and Drop Builder Sign Up 14 Day Trial
Making navigation difficult is the most common mistake made by businesses. Make it easy for the audience to navigate your website. Also, make it easily noticeable.
Every infuriating navigation should be avoided in an age where everything is delivered to us on a platter. You have online website builders at your fingertip. Professionals design them, and navigating problems have been resolved. Use them to avoid making the mistake several businesses make.
7. Lack of contact information
Consider this, and you bought a shoe on a trip. On arrival, your cousin loves it and would like to get one exactly like it. You checked the tag for the contact of the store to reserve a piece and couldn't find it. Frustrating right, your cousin would not get his shoe, and the store lost patronage. If your business website doesn't have your contact information, you are the store.
This mistake is mainly made out of oversight by business owners. A website development software has plugins you can use to link your social media handles and mails. Ultimately making it convenient for customers to contact you about your order and inquiries.
Conclusion
"A successful website does three things: It attracts the right kinds of visitors. Guides them to the main services or products you offer. Collect Contact details for future ongoing relation."― Mohamed Saad
In 2017, 57.7% of SMEs invested in a new/improved website. You can avoid paying much later to improve your website if you do it right at once.
When it comes to building a website using drag and drop builder, there is so much to consider and more to avoid. Making mistakes while building your website will indeed affect your business. Take note of the above-listed common mistakes when you are using that website development software.
NinjaSite is a trusted and convenient online website builder. The web software offers a faster and better way to build your websites. You will be able to use simple drag-and-drop editors without needing professional coding experience. Get state-of-the-art web pages with customizable templates at NinjaSites website builder.
What Makes the Best Website Builder Software?
#1
Create unlimited websites and landing pages using the visual drag-and-drop builder with no code
#2
Add unlimited domains, web pages get free SSL certificates, and built-in SEO
#4
Improve page rankings with built-in SEO tool, NinjaSEO
#5
Choose from a number of pre-built templates to build fast, responsive websites
#7
Increase your web page loading speed with edge servers located in 6 locations
#9
Unbelievable pricing - the lowest you will ever find
#10
Everything your business needs - 50 apps, 24/5 support and 99.95% uptime
Join the SaaS Revolution
All-in-One Suite of 50 apps

Unbelievable pricing - ₹999/user

24/5 Chat, Phone and Email Support