CMS Guide: How to Choose the Right CMS for Your Website?
Choosing the right CMS for your website can be a daunting task. Here is the CMS guide for you to choose right CMS for your needs.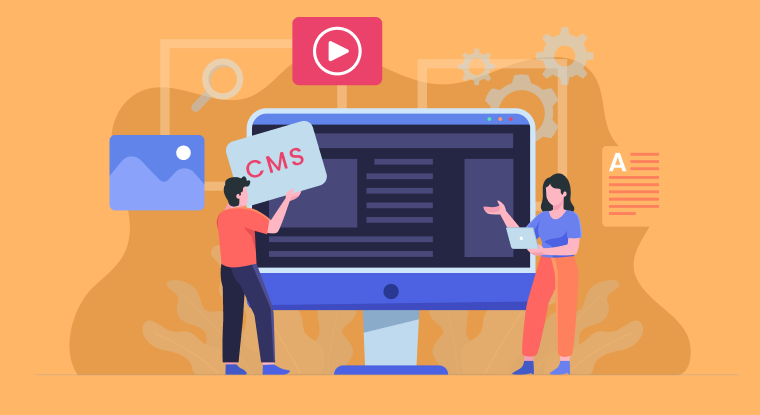 Business transactions have been going on around the world for centuries, both locally and across geographic boundaries. It has always been basically making an effort to make your brand more alluring for the customers using various tactics. In recent years, the influence of technology has restructured the scope of business especially with the emergence and successful takeover of e-commerce. Ecommerce involves using electronic tools to engineer transactions over the internet. An e-commerce website that you build with an ecommerce website builder software is the most versatile digital tool used in business. It is designed as a website that allows users access to the array of available goods, places orders, and houses the ability to complete transactions.
The website serves as a virtual agent representing the business, and hence should be perfectly structured to properly reflect the core features of the institution. Due to the critical nature of the activities being carried out on a website, the websites needs to be and maintained delicately to ensure uninterrupted delivery of the services it has been programmed to carry out. Also, since customers interact directly with the website (most times without human interference), it is important to ensure that the website content will leave a positive impression on the users through the website the user experience. The task of managing a website - although it is a necessity, is usually very strenuous.
Progressive business owners and managers usually employ the services of a content management system (CMS) to maintain their e-commerce website; thereby placing a massive wave of importance on CMS websites and their applications. With the increasing demand rate of CMS websites and the vast array of different providers available, finding the best CMS website to use becomes tedious.
We have provided this text as a guide to help you choose the right CMS for your e-commerce website, therefore all information provided thus will be wired towards the same direction. In doing so, we need to answer a few commonly asked important questions about content management systems and how they operate.
What is a Content Management System?
A CMS (an acronym for content management system) is a software solution used for managing web content; allowing multiple website admins to create, edit and publish content on a website. Popular American Billionaire Businessman and philanthropist Bill Gates wrote an essay about Website content and CMS website titled Content are King, in the essay, he said, "Content is king in the new digital future. Being able to accommodate more ambitious digital experiences is a critical component of any CMS worth investing in."
Adopting and using Website CMSs is beyond doubt very effective in maximizing the productivity level of a website, however, identifying the features behind this efficiency is key to making the best decision when it comes to choosing the right website CMS to employ. Some of the basic features of a website CMS are as follows:
Content Creation - used to create and format content seamlessly.
Content Storage- used for storage of content in file location and in a consistent manner for easy identification.
Workflow Management - used for assigning roles, privileges, and obligations based on these roles such as editors, admins, etc.
Publishing - used for organizing and broadcasting content live on the website.
Benefit of Using a Content Management System
The major advantage of a website CMS is its ability to accommodate more than one user on the same website. Permitted users can log on to the schedule, delete or edit content to be published remotely since the interface is often browser-based.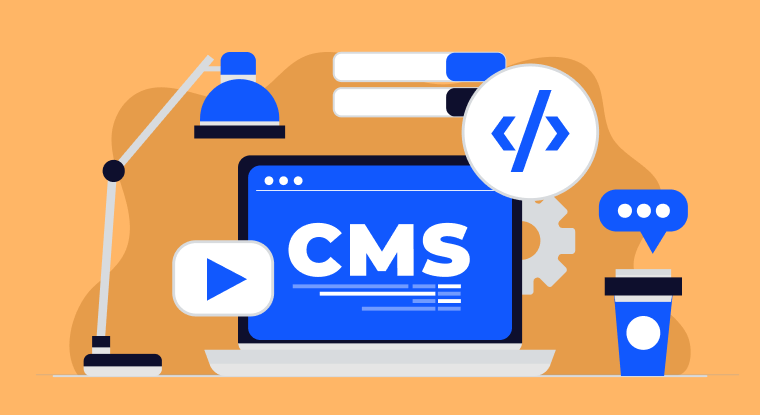 Another major advantageous aspect of using website CMSs is that they allow users to make changes to the content of the website easily even without prior programming knowledge. Hence, business owners and managers who don't know programming languages can easily create and manage their own website content.
Selecting the Best CMS for Your Website
With this basic information in mind, we can now move to learn how to choose the best CMS for your website. To do this, we will begin by first looking at the criteria governing the right choice of CMS and then highlight a few features to look out for when choosing a CMS for your business. Let's begin.
Critical factors that must be considered when choosing a CMS for your business; transforming your brand into an e-commerce-oriented business is the best way to stay peremptory amongst business rivals. This is why your business organization needs to utilize content management using software solutions that allow you to adapt easily to the steadily evolving technical advancements, stay agile, and keep delivering amazing customer experiences daily .
Choosing a best webesite builder with an excellent website CMS is key to achieving the aforementioned points which is why there are five unavoidable factors to consider when selecting a content management system (CMS) that will serve your business perfectly. They are as follows:
1. Preference of Personalized Experiences
The use of digital technology has sparked an urge for convenience in individuals. Customers now prefer to be served remotely while personalizing the services using Personalization Tool as an indication of your appreciation for their patronage.
Businesses are now required to render more than mere products and cordial services. Customers nowadays demand uniqueness and recognition sandwiched in these services. When choosing a website CMS for your website that interacts with customers directly, you should choose one that is able to automatically build profiles from provided details and then assist you in constructing the right content for each group of customers.
2. Ability to Adopt New Languages and Cultures
Globalization in business has placed remote consumers in a comfort zone as they can now easily get anything from virtually anywhere in the world.
However, some businesses find it difficult to rack up these remote operations and still deliver punctually in order to stay relevant. Furthermore, marketing to a broader audience comes with a nouvelle set of challenges - such as; creating, editing, and publishing localized content in multiple languages.
Use Content Generator tool to get quality and unique content for increased website rankings and traffic.
A versatile website CMS like that of NinjaSites will make a remarkable difference in your ability to integrate the features of translators and easily offer content in a new language and in a tone that customers will find attractive.
3. Understanding Upcoming Complexity From AI
Advancements in automation, Hyper Personalization, artificial intelligence (AI), and programming are reshaping the elements of the marketing ecosystem. Simultaneously, individuals are rapidly adopting more technology into their daily activities, via voice assistants, wearables, and the Internet of Things (IoT).
With technology developing at an unstoppable pace, you may need to look for a CMS that's flexible enough to conveniently adapt to the ever-changing technological methods of marketing and business generally. This way, you can then capture, analyze, and gain insights from the ceaseless register of provided data.
4. Understanding Customer Data
Every digital marketing expert today finds themselves with a huge amount of data at hand due to technology and automation. It is then difficult to Decipher the information to be extracted from any piece of data and then use it to refine your website content and marketing strategy, which is key to successful marketing campaigns.
A website CMS with reliable website analytics features will go a long way to assist you not only in managing these data, but also lead you through adequate conversion processes. By doing this, you'll be able to understand how the audience engages with your content easily. You can find out their sources of motivation, the impression they have about your business so far, and most importantly, how to deliver the most effective messages to them and the best time to do so.
5. Matching Content with Context
The days of static websites and impersonal online purchase experiences are far gone. Sales of products and services and customer engagement traffic have been found to be remarkably influenced by content management via marketing.
Your CMS has to possess the ability to account for how readers react to content during each stage of their customer adoption journey, so you can use that to deliver the right promotional offers to them in the right context, and at the right time of the interaction.
Personal Evaluation During Website CMS Selection
Models and brands of CMS's are available with unique features and functionality beneficial for various website types. Some will perfectly work with blogs while others may be tailored to e-commerce websites with advanced features for accounting functionality. The specifics may be different based on the needs and resources of your company.
Here are some questions we have compiled to help you in the evaluation process: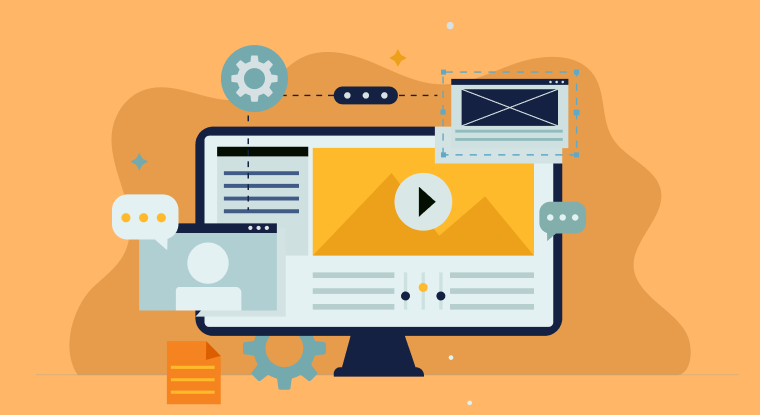 1. What is your budget?
Content management systems are of various ranges due to their functionality and demand for their unique features. An excellent website CMS like that provided by NinjaSites is grossly positively influential in a business setting. Although it is relatively inexpensive as compared to its competitors, CMS's are paid for and hence the selected one should be within the budget of the team.
2. What business operations would the website CMS need to support?
After considering the cost of the CMS with regards to your budget, another hefty factor to consider is the business operations that will be carried out by the website, and the website CMS will have to support it. Here you will consider the volume of contents to be published and the frequency of the publications. You also have to consider the type of media content to be managed by the CMS as well as the sizes of these media files.
3. What other business process software solutions would the CMS need to integrate with?
In a situation whereby your company already makes use of other Customer Engagement Platforms (CEP) such as Messenger Chatbot, or web analytics programs, you may be required to select a CMS that conveniently integrates these already existing digital marketing software in order to gather and process data easily for a more productive result.
Create Your Website with Easy Drag and Drop Builder Sign Up 14 Day Trial
4. How easy is it to create and edit content using the CMS?
Website CMS software solutions are meant to be easy for greater efficiency. In some larger companies, the CMS may be handled by more than one user within which some users may have little or no knowledge of programming languages which makes it a problem if the software requires that. In all, you should always look for an easy-to-use CMS like the NinjaSites solution.
Conclusion
Websites have become a top advertising platform for e-commerce-oriented companies. Although notepads can perfectly serve as content creating with AI Content Writer and editing platforms, the use of website CMS solutions makes the job a lot easier, especially when using a customizable automated solution like that of NinjaSites.
The 500apps NinjaSites provide a perfect solution for a vast range of content managing problems on the website CMS. Take advantage of the unique features of the solution to increase the conversion rates of your website ads today.
What Makes the Best Website Builder Software?
#1
Create unlimited websites and landing pages using the visual drag-and-drop builder with no code
#2
Add unlimited domains, web pages get free SSL certificates, and built-in SEO
#4
Improve page rankings with built-in SEO tool, NinjaSEO
#5
Choose from a number of pre-built templates to build fast, responsive websites
#7
Increase your web page loading speed with edge servers located in 6 locations
#9
Unbelievable pricing - the lowest you will ever find
#10
Everything your business needs - 50 apps, 24/5 support and 99.95% uptime
Join the SaaS Revolution
All-in-One Suite of 50 apps

Unbelievable pricing - ₹999/user

24/5 Chat, Phone and Email Support