10 Examples of Great Website Designs in 2022
In 2022, websites will have better design and usability, which in a way helps in increase your sales. Here are 10 examples of great website designs in 2022.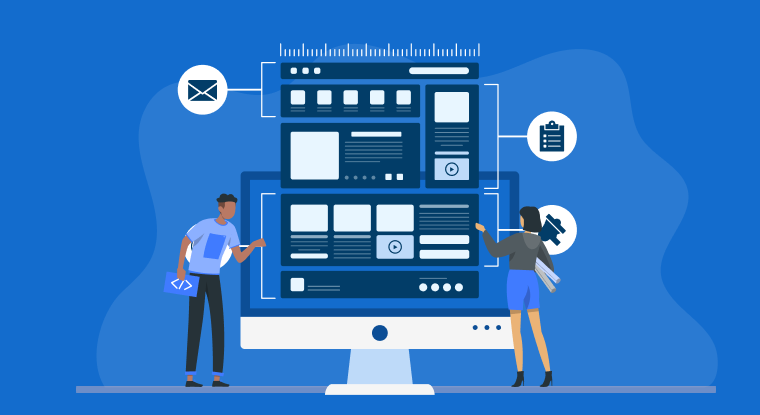 Web design accounts for almost 95% of a website visitor's first impression of your business. Think of it like them walking into a virtual store the better it looks, the easier it will be to get patronized. If you own an e-commerce store, your website should accurately represent what your brand and business are all about. It will never not get visitors, and when it does, it is unlikely they'll stick around if that website is not optimized and attractive. This is why it is important to stay updated on the latest web design trends. Having great website designs will leave your customers with the urge to come back next time, which means they'll look out for your logo when next they're looking to shop.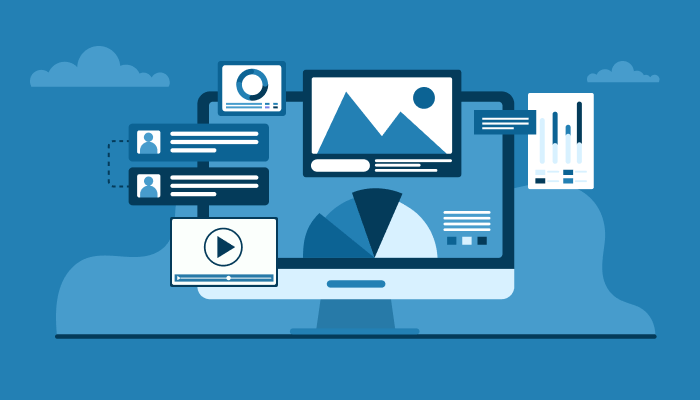 It is not easy to optimize an e-commerce website design it requires a lot of care, and you'll need to consider how the look and feel of it will impact user experience. You must strike a balance between functionality and form, which will enable you to attract new clients and keep your old ones satisfied.
Creating an appropriate e-commerce website is not simple, so there's no such thing as the best website design. Instead, you'll need to try different things then go after the ones that show positive results. But you can create the best e-commerce website with feature-rich e-commerce website builder.
10 Great Website Designs That Came Out in 2022
Fortunately for you, we have curated some great web designs from which you can take your inspiration. Keep reading.
1. Bliss
Bliss is an attractive e-commerce website with a stylish web design . The company manufactures and sells various skincare products, including masks, face washes, etc.
The company also takes fabulous e-commerce product images that go up on the website, creating excitement. Just one glance at the website design will leave you feeling cheerful and optimistic, which means they are doing something right.
Everything makes a perfect blend: beautiful colors, large photos, and handy buttons. In addition, they opted for fast online hosting so elements come up quickly, which can't hurt their popularity.
2. Dress Up
Dress Up markets a wide range of chic clothing for ladies. This e-store uses big, bold text to highlight its most recent promotions, which ultimately helps drive up e-commerce sales. The website, filled with vibrant, eye-catching images of fine female outfits, will easily discourage anyone from leaving without spending a couple of dollars first.
3. Bohemian Traders
This website can be a good inspiration for you if what you want is bohemian aesthetics. As the name implies, the website has been incorporated with a bohemian feel evident as you smoothly navigate between different clothing categories, accessories, promotions, and events. Additionally, they employed muted colors to keep user attention firmly on the clothes. The website may be nice to navigate, but sales are what they're after.
4. Boohoo
Boohoo is a major fashion brand, and they have an attractive e-commerce website design. This enterprise took time to tailor its website to provide clients with a customized shopping experience. They have a landing page video in the background, with a giant billboard announcing their latest promotion. The site is designed to grab your eye and reel you in instantly from the aesthetics to the functions.
5. Jackie Smith
This is another great example of an e-commerce website that employs bright colors in its design. The bright colors are splashed over the website, just like the products. This form of design has grown in popularity these past few years, and it will only get improved upon. You should know how to make sure your website has a great user experience to drive more traffic.
6. Mahabis
Mahabis is a special e-commerce website with its entire home page designed around its goods. When users log in, they are welcomed by a slideshow of images that tells the brand's story. Besides that, the whole website boasts a clean aesthetic that allows you to browse their catalogs in peace. The aesthetic is very easy on the eyes, and the site being so detail-oriented only enhances the shopping experience for their clients.
7. RYDER
RYDER is a classic e-commerce website which is designed by best website builde. There is nothing too special about the design but the website has a creative spin that gives it a flair. This site merges beautiful imagery and interesting copywriting to get users to act on their jumping impulse — yes, it exists.
8. DICK MOBY
DICK MOBY markets spectacles, and their eCommerce website design reflects that. They employed fun design elements that gave the site a unique aesthetic. Indeed the first things you'll notice are the squiggles and fun patterns rather than the glasses. Another thing that helps them stand out is highlighting their brand's story and niche. Knowing what your brand represents can help you better market it via your website.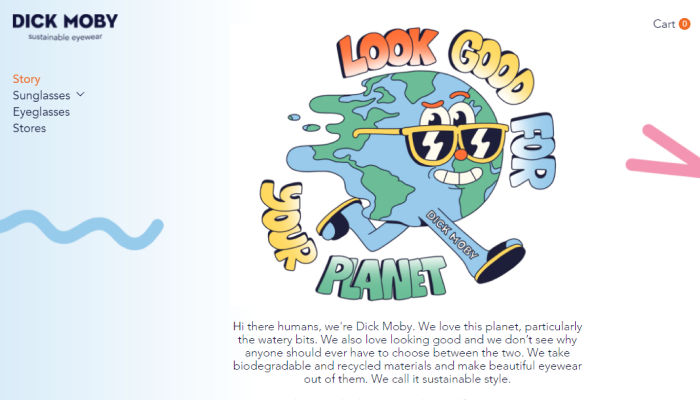 9. Moreporks
This website does things a bit differently. Logging on leads you to a hi-resolution visual of a tire, and from there, you either go straight to either a minimal store or to the journal The latter contains wonderful outdoor shots and artsy graphics, promoting a distinct brand image. Rather than focusing on their products as the centerpiece, Moreporks tells a story, cultivating a specific rugged appeal. The theme of this website is minimalism complemented with large oversized pictures — it is unique. It will not be easy to replicate if you don't have good knowledge of minimalist aesthetics.
10. Hebe
A glance at Hebe's e-commerce website shows precisely how much the company relies on its photography. Using high-quality photos is non-negotiable when dealing with modern e-commerce websites which are buiilt by feature rich website builder. This is because potential buyers can't physically see or touch your products to determine if they'll be buying. A clothing website, Hebe pays extra attention to their private label products by highlighting relevant details. They also use a thicker font, making it easy to read while adding a unique feel to the website.
Create Your Website with Easy Drag and Drop Builder Sign Up 14 Day Trial
Conclusion
Now that you have gotten some inspiration for creating attractive websites let's talk about a tool you can use to build a sleek and professional website. You can use many methods to create a website, but if you want to do it accurately and efficiently, we recommend you use NinjaSites. This software is an intuitive program that can help you craft custom, sleek and professional websites with ease, and that's not all; it is also equipped with many features that will come in handy.
With NinjaSites, you get to build personalized landing pages, websites, and blogs for unlimited domains with built-in templates and an SEO grader that makes sure your website ranks high in SERPs. NinjaSites will let you publish your websites in six distributed locations for super-fast page speed using content delivery network, and it can also help you boost customer confidence with free SSL certificates.
Your customers are already searching for you —with NinjaSites' built in seo page grader improve your webpage's visibility; you can become available to them.
These are just a few of the features you will enjoy with NinjaSites. Won't you give it a try today?
What Makes the Best Website Builder Software?
#1
Create unlimited websites and landing pages using the visual drag-and-drop builder with no code
#2
Add unlimited domains, web pages get free SSL certificates, and built-in SEO
#4
Improve page rankings with built-in SEO tool, NinjaSEO
#5
Choose from a number of pre-built templates to build fast, responsive websites
#7
Increase your web page loading speed with edge servers located in 6 locations
#9
Unbelievable pricing - the lowest you will ever find
#10
Everything your business needs - 50 apps, 24/5 support and 99.95% uptime
Join the SaaS Revolution
All-in-One Suite of 50 apps

Unbelievable pricing - ₹999/user

24/5 Chat, Phone and Email Support