11 Best Online Website Builders for Small Businesses in 2022
Looking for the best website builders for small businesses in 2022? We reviewed 11 best online website builders and made a list of the best ones.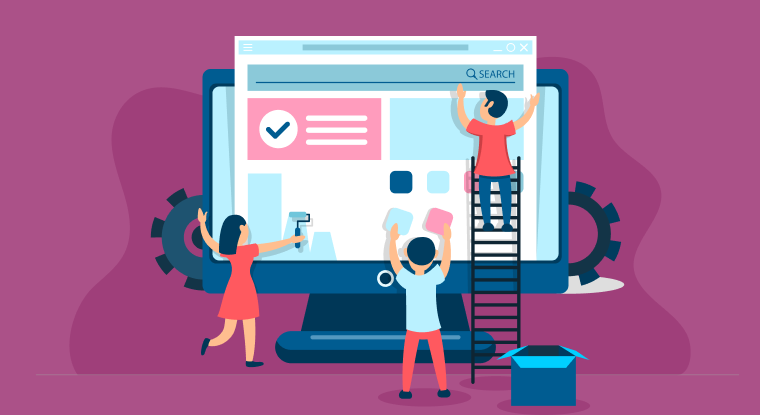 Any business owner has the constant goal of moving forward, developing, and growing their business, and you should be no different. In a world of rapidly developing technology, Business development solutions are springing up every day, especially for small and medium businesses. One of these is online website builders, which take away the need to learn technical coding languages such as HTML or Java to build a website for your business.
Ordinarily, building a website for your business is a long and technical process, but with online website builders, you can cut out several unnecessary and expensive steps. The quote below by Amit Kalantri, a writer and mentalist, demonstrates how important a website is,
"For customers, a website is an 'always open' workplace of your business."
Online website builder software helps you create unique websites for your business in simple and short steps. They also incorporate several features to help your business transition into the website sphere and offer services regarding setting up the website, such as domain purchase and registration, web hosting, etc.
Here is a detailed analysis of the top eleven of these online website builders for your business.
Essential Features of Online Website Builders
Of course, there are hundreds of online website builders in the market, and many of them are very good and efficient. However, not all of them offer the features and services that you really need to grow your small and medium business. This tweet by BuilderFly, "an e-commerce platform, emphasizes the importance of ensuring your online website builders tick your list of required features."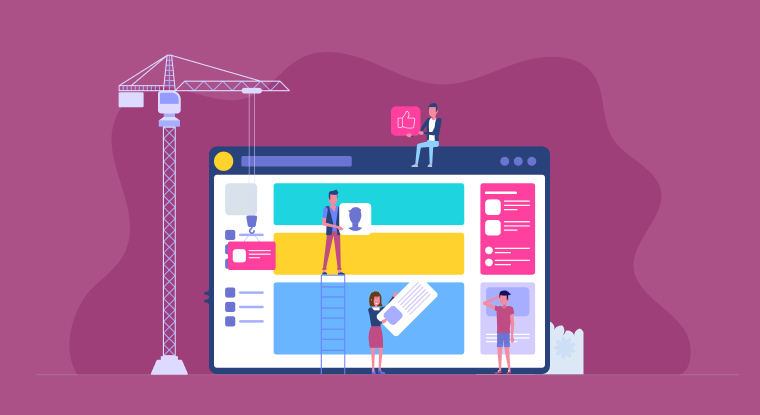 So what features should you look for when selecting an online website builder? Here are six of these important features.
1. Domain Registration
Having a custom domain name is very important for a business website as it greatly increases the ranking of your website on search engines. They are also necessary for you to create custom domain emails. Therefore you should pick best website builder that offer domain registration and management services or have partnerships with companies and software that offer the service. This will cut out a lot of strenuous steps that you would take to do the registration yourself.
2. E-commerce Features
Having an e-commerce component in your business website is a big bonus for you as a business owner. It erases the need for you to have a separate shopping platform for your products and services. An online website builder that offers an online store option or integrates with third-party shopping systems should top your list. This option should be customizable to represent your brand properly and have advanced commerce apps for taxes, shipping, etc.
3. Ease of Use and Flexibility
As a business owner with plenty of duties, you can't afford to spend time on a complicated and technical process. An online website builder is meant to eliminate the technicality of creating a website for your business, so it should be easy to use. You should select an online website builder that is easy to use for people without technical training. This means elements like a drag and drop builder and simple structure are necessary.
4. Support and Analytics
Your website online builders should do their best to support your online business services. This means services such as customer support and website analytics are a must. Constant customer support to help you navigate areas of building and managing the website is essential, as well as a built-in website analytics system or third-party analytics integration to help you measure website activity, track visitors, check areas of higher interest, etc.
5. Template and Themes
A template simplifies the website creation process in online website builders so that you can just select a template, fill in the vital information and edit to your satisfaction. Therefore, a builder with many template options is a big plus. They are even more helpful if the website templates are high quality with simple, modern, and customizable designs. The templates should also offer the option for your website to come in various themes, which can be changed and edited with a few clicks.
6. SEO Management
The presence of SEO management software like built in seo in your online website builders is crucial to improving the quality of your business website and increasing the ranking and traffic of your site. This includes elements like meta title, meta descriptions, keyword optimization, content optimization, etc.
Choose the best website builder which has an in-one built-in SEO Tool tool to boost your keyword rankings and website traffic.
11 Best Online Website Builders
Even after outlining each of the important features you need in an online website builder, it'd be challenging to find a great one because you'd have to examine hundreds of options individually and thoroughly. So, we offered a little bit of help and shortlisted the eleven best online website builders in the market.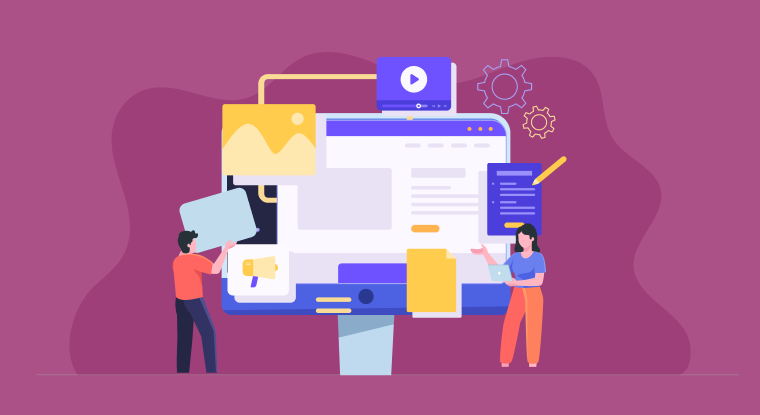 These builders tick all our boxes in varying degrees and are sure to help scale your small or medium business to the next level. We made our top and special recommendation as number one, so you should definitely take that for a test run or check out the rest of the list and make your pick.
NinjaSites
It comes in first on our list of recommended online website builders. This is because it is a software that helps you build professional business websites quickly without any unnecessary technicalities. It also incorporates all the above features, such as Built-in and Customizable templates, In-built editor, Custom domain registration and management, SEO management, etc.
This website builder is designed to be used by anyone, regardless of coding experience. It is a part of the 500 apps suite, which means that it comes with more than 30 other apps that are useful for your business growth at a very affordable price. It is perfect for small and business owners for all the reasons above and because of how simple it is to use and because the features help you as your business grows and your website needs to increase.
WordPress
WordPress is an open-source website builder that offers you plenty of control over the building and management of your website. It can build different websites for your business, such as an e-commerce store, a landing page, forums, etc. It also offers a drag and drop editor and various themes and templates that you can use to structure your site. WordPress is popular for its many plugins. These are software that provides features and improves the efficiency of your website, such as e-commerce features, Google Analytics, social media tools, SEO tools, CSS customization, etc.
Wix
Wix is a very popular website builder that is well known for its flexibility. Although a bit pricey, its features are very high quality, and you can access many apps that help increase the efficiency of your website. These include SEO tools, logo and customization features, website analytics, and e-commerce solutions. It simplifies the website creation process by offering a large number of templates to help you create a website with a website creator that is right for your business. It is excellent for small and medium business owners who want to ease into business website creation.
GoDaddy
With an online website builder like GoDaddy, you require no coding experience or technical training to create a beautiful and efficient website for your business. With its website templates, you can simply add your content, do some customization and have a website ready to go, or you can answer a few questions about the purpose and scope of your site and have its AI intelligence pre-build a site ready for you to customize. It also offers domain registration and management services, e-commerce tools, and SEO services.
Pixpa
Pixpa Portfolio Website Builder is an all-in-one platform for creators and small businesses to create beautiful, professional websites complete with built-in online store, blog, and client galleries. Pixpa's versatile platform has everything you need to showcase your work, share ideas and sell your stuff online, without any coding knowledge.
Building your website on Pixpa is super easy. Pick a template of your choice as the starting point. Pixpa offers a multitude of stunning, pixel-perfect, mobile friendly templates.With a host of built-in tools such as SEO manager, Marketing Popups, Announcement Bar and much more, you don't need any extra plugins to start growing your traffic and converting more leads.
Weebly
Weebly is popular amongst small and medium business owners for its flexibility and affordability. It offers you the options to create a business website or build an online store through e-commerce tools. You can also choose to build a website and still add e-commerce functions with its ecommerce website builder feature. It also simplifies your website creation by offering mobile responsive and professional themes and customizable templates and provides more features such as social media tools, marketing features, a free trial period, and others. Weebly also has ample storage and bandwidth capacity for its websites, which is very helpful for your business.
HubSpot
HubSpot is one of the more powerful online website builders for small and medium business owners. It incorporates several powerful features such as all in one CRM software, drag and drop builder, SEO tools, analytics, email marketing, etc. to provide a personalized website and digital experience for your visitors. It also offers adaptive testing to create multiple variations of a page, which will then be monitored to determine the best-performing option for website visitors. It also provides multi-language content support so that your business can expand its reach to customers all over the world.
Squarespace
Squarespace is popular for its templates and handy features. Its templates vary from simple and minimalistic to bold and are mobile responsive. It also offers a variety of features such as a user-friendly editor, SEO tools, analytics, and accelerated mobile pages that reduce image size and remove custom code to increase loading speed on mobile devices. It is a great website builder for a small business site, an online store, a blog, etc., and is flexible for businesses in various spheres.
Shopify
Shopify is popular amongst online website builders for its e-commerce solutions. It has a variety of plans that offer inbuilt shopping and marketing features. It provides nine free website templates that incorporate e-commerce but has the option of more upon subscription. It also has an editor for its websites, but this is a bit technical. It is a fully hosted website solution that integrates its own payment solution to simplify customers' shopping experience and offers third-party payment apps. Its e-commerce platforms come with marketing solutions, inventory and stock management, Social Media Integration, etc., and can be used without coding experience or technical training.
IONOS
IONOS is popular as a web host but also offers the option of a website builder that competes and trumps many other online website builders. It provides an interactive interface with a drag and drop editor to improve functionality and make it simple and easy to use. It is also very affordable and has a variety of plans to cater to small and medium businesses. It allows you to create personalized content for your visitors and vary the website content depending on holidays, discounts, etc. With an IONOS subscription, you can get features such as parallax scrolling, analytics, Third-party Apps Integration, multilingual content translation, etc.
Create Your Website with Easy Drag and Drop Builder Sign Up 14 Day Trial
Zyro
With online website builders like Zyro, you get very affordable subscription prices that give you access to hundreds of templates to quickly build your website, professional designs, drag and drop editor, e-commerce plans, and a large amount of bandwidth and storage for your site. Zyro also offers you the ability to import a pre-existing website into its platform for editing and customization. This erases the need for you to start from scratch and create a new website using website structure guide. With its AI Content Writer tool, you can also generate content that is SEO friendly and logos that incorporate your brand into your website. Its easy-to-use editor and affordability make it a good fit for business owners, although it lacks domain registration and management functions.
Conclusion
With our breakdown of online website builders, the essential features to look out for when selecting one to build a website for your business, and our list of top 11 recommended apps, you should have a clear idea of which builder app would work best for you. Of course, you can also take one of our recommendations for a test run and see how well it works for your business. For example, our number one recommendation, NinjaSites, many business owners has tried it and loved how easy it is to use, its features, and the beautiful websites it helped them create that have scaled their businesses.
This review about NinjaSites shows how useful its features are. So why not take your business to the next level with this digital business solution. Take our word for it that you would never regret it.
What Makes the Best Website Builder Software?
#1
Create unlimited websites and landing pages using the visual drag-and-drop builder with no code
#2
Add unlimited domains, web pages get free SSL certificates, and built-in SEO
#4
Improve page rankings with built-in SEO tool, NinjaSEO
#5
Choose from a number of pre-built templates to build fast, responsive websites
#7
Increase your web page loading speed with edge servers located in 6 locations
#9
Unbelievable pricing - the lowest you will ever find
#10
Everything your business needs - 50 apps, 24/5 support and 99.95% uptime
Join the SaaS Revolution
All-in-One Suite of 50 apps

Unbelievable pricing - ₹999/user

24/5 Chat, Phone and Email Support