List of Top Online Webpage Builders of 2022
An online webpage builder is a tool or program that enables quick and simple website creation. Learn about the top builders here and pick the best one.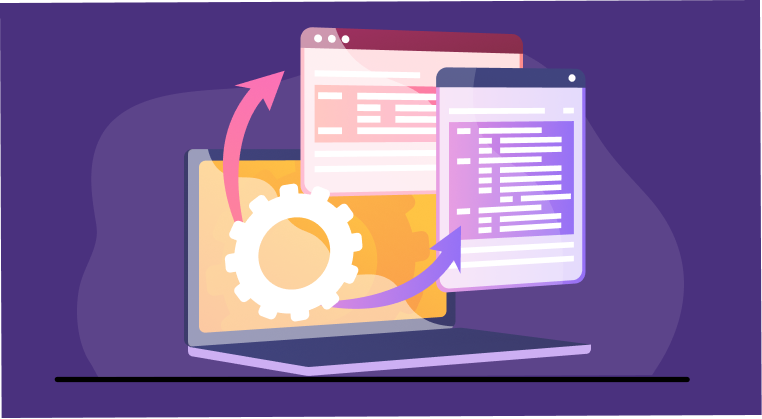 Using online webpage builders to create a website is rather cost-efficient. You can create your own website using the simple drag-and-drop interface rather than spending on a web developer.
The process of building a new website is highly automated, unlike the common misconception. Previously, it was necessary to have your own website developer on your team, but now anyone can do it online. If you have a general concept of how you want your site to look in your head, you can make it happen with one of the dozens of online webpage builders that offer drag-and-drop design simplicity. Even better, the majority of websites are filled with excellent, expertly created templates to make your task even simpler.
The more challenging issue is determining which online webpage builder is suitable for your needs. A little forethought can go a long way. What do you hope your website will accomplish for you? Are there any features you know the builder must have? Are there any areas you'd like to expand into in the future? Selecting the best webpage builder is made much simpler even with only a brief overview of your needs. Learn about the top builders here and pick the best one.
An Insight Into the Right Online Webpage Builder
There is now very little need for anyone to use website coding, thanks to the advancements made by online webpage builders over the past few decades. What's the value of sticking it out alone at this stage, even for those with vast coding experience? The finest online webpage builder will help you fully modify your page for a completely custom design while being drag-and-drop easy to create.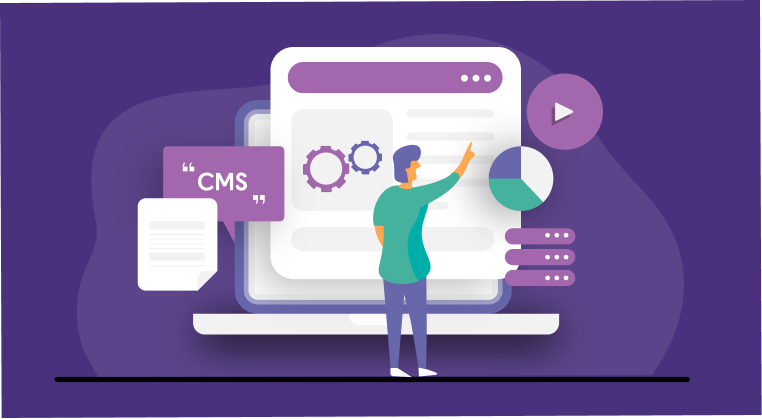 Narrowing down exactly what you want your site to do will help you choose the best online webpage builder. Some businesses specialize in e-commerce for online stores, blogging for authors, or online portfolios for photographers. The majority of websites will provide all of these options, but they always shine in a certain field first. There is a common workflow used by all DIY online webpage builders. You choose your preferred template after deciding which website builder to utilize. The template can then be modified using the design feature as necessary for your website.
Here is where the true distinction between businesses becomes apparent. From one website to another, there are significant differences in how simple it is to modify the template to fit your needs. Changeable elements like colors, typefaces, and images are essential. Additionally, you wish to add new pages, rearrange the pages, and modify the navigation.
However, there are occasions when you wish to change the entire composition, such as by deleting a textbox here or adding a video element there. Online drag and drop webpage builder editors can excel in this situation. Some websites are absolutely incapable of doing this, so you must make do with what they offer. Others give the designer absolute and complete control over the process.
Top Online Webpage Builders
Let us look into some of the best online webpage builders to choose from:
NinjaSites
NinjaSites is an online webpage builder that offers a drag-and-drop builder, free SSL certificate, templates, built-in SEO, and a content management system. With NinjaSites, you can quickly and easily create a professional-looking website without any prior experience or design knowledge. The online webpage builder is extremely user-friendly and offers a wide range of features that will help you create a stunning website.
The built-in SEO feature will help you optimize your website for the search engines so that you can get more organic traffic. The platform also offers a free SSL certificate which will add an extra layer of security to your website. Additionally, the platform offers a wide range of templates that you can use to create a unique website.
With its content management system, this best website builder helps you easily manage your website's content and make changes as needed. This is a great feature for those who want to be able to update their website regularly without having to hire a web developer.
Wix
Wix is a powerful online webpage builder that is incredibly user-friendly for beginners and provides you with complete creative freedom over your site. Unlike some other builders, it combines straightforward drag-and-drop editing capabilities with a wide variety of features rather than sacrificing power or customizability for simplicity.
Wix has established itself as the platform that, quite literally, does it all, mostly due to improvements to its blogging and internationalization. It's not just a superb online webpage builder, but it's also the best ecommerce website builder if you want to start an online store because it offers three ecommerce-specific plans and a tonne of tools to increase sales. However, this does not imply that it will be suitable for everyone, especially given its greater price and cluttered visual editor.
Zyro
Zyro is a user-friendly online webpage builder with attractive, tidy designs. It doesn't have as many features as a top builder, but the ones it does have are quite high-quality. Zyro actually resembles a "little Wix" in many ways. It is a less expensive online webpage builder, but it lacks some of the crucial features other top builders have to offer.
For instance, Zyro enables you to add a blog to your website, which is fantastic, but it lacks search, archive, and commenting tools.
Not only does Zyro have excellent UX for website users, but it is also simple to edit even if you lack any technical knowledge. However, they aren't highly customizable, so if giving your branding a unique touch is a major priority, you might want to go with other builders on the list.
Squarespace
Squarespace is an advanced online webpage builder with a lot to offer both businesses and creatives. Even if it's not the simplest builder available, it won't take long to get used to; it just takes a bit more effort and perseverance.
Squarespace particularly excels in its templates design, which are the best on the market and ideal for creatives who want a visually stunning website. However, Squarespace also boasts a vast array of capabilities to give your site the strength it requires, so it's not a matter of look-over substance.
Furthermore, Squarespace has the top knowledge base in the industry. You'll find there a variety of text, image, and video instructions, a smooth onboarding process, and clear navigational signposts and instructions.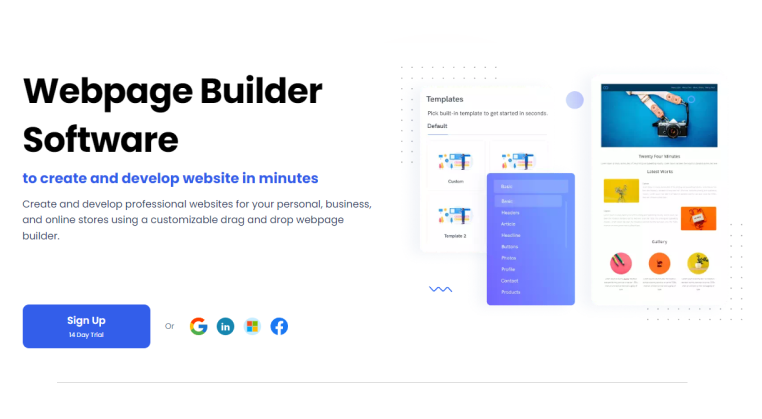 Shopify
Shopify has become a primary go-to application for companies looking to create an online presence for selling.
And its popularity has merit. Shopify shines out when it comes to sales features. It contains a tonne of high-quality sales tools that will aid in the healthy expansion of your online store. We were very impressed by the efficiency of its security mechanisms, the quantity of multi-channel connections it provides, and the variety of payment choices offered.
But that's not all; in addition to its checkout customization, shipping choices, and the simplicity with which you can add promotions to your sites and provide discount codes to your consumers, this website creator for business also excels at managing vast and complex inventories.
Create Your Website with Easy Drag and Drop Builder Sign Up 14 Day Trial
GoDaddy
GoDaddy is the quickest online webpage builder overall and has a highly user-friendly interface. With its design aid, all you need to do is enter your information, and GoDaddy will build a bespoke website for you to edit. A very clear and quick building process is made possible by simple layouts and instructions for adding elements to your site.
GoDaddy, despite its speed and simplicity, isn't the ideal option for creating robust or complicated websites. It's also not the best option for creating a website that is genuinely unique. Having stated that, GoDaddy should satisfy all requirements for smaller site offers and organizations, especially given its straightforward style and approachable format.
But still, GoDaddy went from being an unimpressive "Plain Jane" to one of the highest-rated (and nicest-looking) builders on the market, largely due to the platform's better templates and superior customization.
Wrapping It Up
Now that you've seen our list of the top online webpage builders available, you hopefully have a clearer notion of which builders are most appropriate for your needs. We highly recommend NinjaSites by 500apps for all your website creation needs and beyond. By signing up for NinjaSites, you also gain access to 50+ applications of its parent suite designed to meet all business requirements.
What Makes the Best Website Builder Software?
#1
Create unlimited websites and landing pages using the visual drag-and-drop builder with no code
#2
Add unlimited domains, web pages get free SSL certificates, and built-in SEO
#4
Improve page rankings with built-in SEO tool, NinjaSEO
#5
Choose from a number of pre-built templates to build fast, responsive websites
#7
Increase your web page loading speed with edge servers located in 6 locations
#9
Unbelievable pricing - the lowest you will ever find
#10
Everything your business needs - 50 apps, 24/5 support and 99.95% uptime
Join the SaaS Revolution
All-in-One Suite of 50 apps

Unbelievable pricing - ₹999/user

24/5 Chat, Phone and Email Support