6 Steps for a Perfect Web Page Creation
A perfect webpage will not only help you get more customers but will also help you in better ranking. Here are 6 steps to follow for a perfect webpage creation.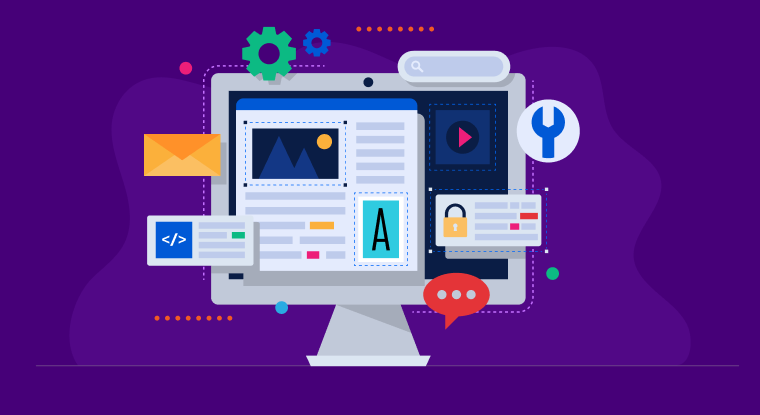 In a world where almost everything is digitized and can be found on the internet, a website is one of the most important things a business owner can invest in. By choosing the best website builder, you can build a professional and responsive website. A large amount of the world is connected through the internet, and this is no different for businesses. With the amount of time people spend on the internet, connecting, talking, and conducting their normal activities, it is only normal that they would also conduct their purchases online.
Research shows that over 90% of people search online for products, services, and businesses they want to purchase. It is an invaluable asset to the growth of any business, no matter the type of nature of its operations and products. This quote below by Amit Kalantri highlights how valuable a website is to a business.
"In the information age, build a website before you build a workplace."
Traditionally, websites and webpages were built by professionals who had to learn different coding languages to make them. They also had to do years of practice to perfect the skill. However, with the invention of web-building apps and web hosting apps, business owners no longer have to shell out huge amounts for professional coders and designers. You can take one afternoon, choose the software to build and host, subscribe, and get your easy website by building with a website builder and ready to go in no time.
An Overview of a Website and a Webpage
In clearer terms, a webpage is a document that is viewed online via an internet browser. It usually contains texts, images, videos, etc., and hyperlinks to connect with other web pages. A website is a collection of several interlinked web pages that share the same domain name and provides different sets of information to visitors.
The web pages work together to illustrate the topic or idea of the website. Several common web pages in any website are the Home page, Contact Us page and Product details page. You can then add more pages to provide more information about your business and its operations to visitors.
6 Perfect Steps to Create a Webpage
Creating an easy web page is now a simple process that anyone can do without coding or technical experience. Here is a simple set of steps on how you can create an easy webpage for your business
Outline the information to be on your webpages
Choose your website builder
Select your domain name and choose a host
Create your web pages and fill in the content
Customize your website
Launch your website and optimize it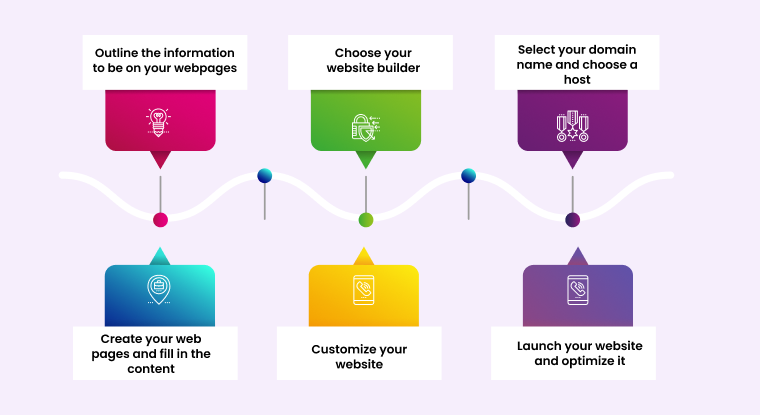 Other optional steps include adding a blog, a payment processor, and an online store. These are not always necessary, but it also depends on what you want your website to do. Now, here is a more detailed explanation of the steps. If you want to start an online store business, then you need to build a website for it using an e-commerce website builder and you can add payment integration apps.
Let us now read each step pf a webpage-building in detail and understand the nuances of the same.
1. Outline the Information to Be On Your Webpages
The first thing you need to know before creating your web pages and website is to outline in detail all the information you want it to provide to your visitors. You need to define the number of pages your website will have and what information they will contain. Important and easy web pages that you should have on your website include the Home page, Contact us page, Product and service page, About Us page, etc.
This depends on what the purpose of your site is. Are you looking to simply share information, sell products, and publicize your business? What do you want the site to do for your business? This is important because it is what you will refer to when filling in the content later.
2. Choose Your Website Builder
The technology that helps you to build an easy web page and website is known as a webpage builder. There are many in the market, but you need to pick one that offers a comprehensive service with the best features to help you easily build a web page and site. With the builder, you can create an easy web page, upload images, add in content, and perform all the tasks relating to website creation.
One of the best software you can use to make an easy webpage is NinjaSites by 500apps. It has amazing features such as a drag and drop builder, built-in SEO and customizable templates, and many more at very budget-friendly pricing for businesses.
3. Select Your Domain Name and Choose a Host
After choosing a builder, you have to do two important things; choose a domain name and a host for your website. The domain name is the online address or location of the website, while the website host is the system that connects the website to the internet, stores the information on the site, and delivers them when they are requested for either by you or a visitor.
Your business website cannot exist without them, so you must have both. Having your own domain name brings professionality to your site, and choosing a quality host will ensure that your site loads quickly and is of good quality.
4. Create Your Web Pages and Fill in the Content
Once you have done all the previous steps, you can move to this important step, which involves creating all the easy web pages on your website and adding the content to the pages. This is where the information detailed in step 1 will become necessary. You create according to what your outlined plan is and fill in all the information under each page.
Create unique and quality content by using the AI Content Writer tool to boost traffic and conversions.
Try to create easy web pages that are easy to navigate and is attractive. You should also stick to relevant & unique content and avoid crowding the page. Add in the necessary media and links, and your easy web pages are good to go.
5. Customize Your Website
Once all the pages and information are filled in, and your website is complete, you need to customize it to represent your business's brand properly. This involves things like colors, themes, media, logos, etc. You can edit this through the web builder used to create easy web pages.
You can choose to have each easy web page represent a different part of your business, but you should use a general theme to represent uniformity to visitors. You can also add any widgets and add-ons that are necessary to help your visitors.
6. Launch Your Website and Optimize It
After you have completed all the above steps, your business web pages and website are ready to be launched and shown to the world. But how will your targeted visitors to find it? This is where Search Engine Optimization comes in. You need to optimize your page using SEO tools such as backlinks, keyword research in your content, social media links, and many more.
This means that when people search a specific keyword or phrase, your website and easy web pages are what will come up for them to click. With SEO, the ranking of your site increases, as well as your traffic and chances of patronage.
7 Benefits of a Webpage for Your Business
The benefits of a website and an easy web page cannot be understated. In light of the increasing importance of the internet in the 21st century, having a website is more than just an option; it is a necessity for the survival of any business. According to Bill Gates, founder of Microsoft and businessman,
"If your business is not on the internet then your business will be out of business."
However, it is not enough to just have a business website; you have to have quality web pages that will help sell your products and services. Once you do, the benefits that it brings to your business are unending. Here are seven of these benefits: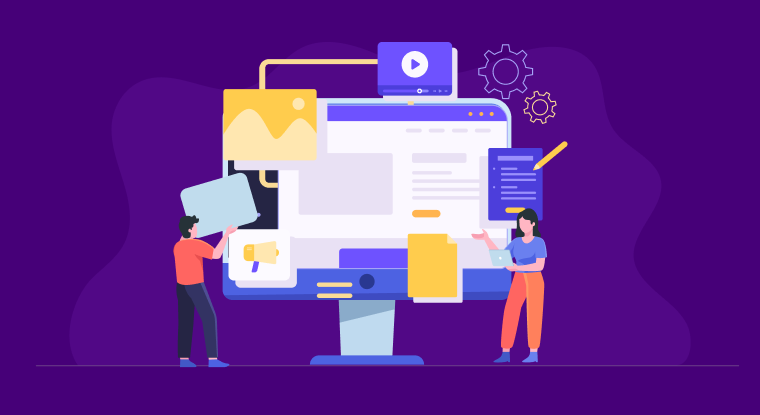 1. Makes Your Business Look Professional
One of the key benefits of having organized web pages and a well-designed website is that it makes your business look well packaged and professional. With the ability to direct customers to your website for any information and easy shopping, your business gains credibility and gives the impression that you are a serious business owner. This brings in customers with higher purchasing power, investors who can see a serious business, and more opportunities.
2. Increases Your Customer Reach and Audience
With the existence of a website, you can increase the reach of your business to customers all over the world. It removes the need for a physical store and allows you to sell your products and services to customers without them having to come to a physical location. You can scale your business exponentially with a global reach and increase your sales a lot.
3. Ensures Cost Effectiveness and Saves Costs
With website maker software, you can cut out the high expenses that business owners normally incur with a professional web designer and builder. When you get your website done, it is also very easy and affordable to maintain, unlike the costs that you would incur with a physical store for your business. Without a website, you would have to print product catalogs, pay for a physical store location, physical publicity, and many more cost-intensive activities. You can save all these costs with a business website.
4. Improves Your Availability to Customers
With a website and web pages dedicated to an online store and product services, you have a 24/7 online business. Having this level of accessibility means that customers can access your business no matter the time of day, whether you're online or not, no matter the time zone. You can cut out the losses you would incur with only a physical store that closes at night or on the weekends. It also attracts customers as they are more likely to patronize a business that they can access at any time.
5. Provides Marketing and Publicity
On your website, you can dedicate a page for collecting the contact information of your visitors. This gives you a database of active internet users whom you can add to a mailing list. You can send regular product and service updates, offer discounts and vouchers that will entice them to your products and services, turning them from just viewers to customers. You can also have a page that details the products and services your business offers so that visitors can view them without making firm commitments.
6.Helps with Customer Relations
You can have a webpage dedicated to improving the customer relations of your business. This means having features on the pages, such as a Frequently Asked Questions (FAQ) section that offers answers to general questions and areas that might be confusing. You can also have a chatbot through which they can communicate with customer service agents and get fast solutions to their issues. With these, your visitors will see that you care about them and their experience on your page, which is more likely to turn them from visitors to returning customers.
Create Your Website with Easy Drag and Drop Builder Sign Up 14 Day Trial
7. Allows to Learn More about Your Visitors and Customers
The benefits of web pages and websites aren't only limited to sharing your business. You can also gain a lot of information about your visitors and customers. You can have a web page dedicated to polls that ask questions about them, what products and services they're interested in, etc. You can also have website analytics set up on your website that helps you to track which pages and products customers are more interested in and monitor how visitord behave on your site using the Visitor Recording tool.
Conclusion
With easy web pages and a professional website, you can drastically change how your business operates and is perceived. The benefits are endless, and it is a straightforward process that anyone can do without technical training. But before you can get into creating the easy web pages and the website itself, you must select a web builder to do the actual creation process.
Of course, there is only one builder software with the features to help you create an easy webpage at the best pricing. With features such as a drag-and-drop and landing page builder, an editor, page preview, and customizable and inbuilt templates, your webpage creation is simpler than ever. The best part about NinjaSites is the pricing; it comes with the most affordable paid plan that gives you access to other apps to help you develop your business.
What Makes the Best Website Builder Software?
#1
Create unlimited websites and landing pages using the visual drag-and-drop builder with no code
#2
Add unlimited domains, web pages get free SSL certificates, and built-in SEO
#4
Improve page rankings with built-in SEO tool, NinjaSEO
#5
Choose from a number of pre-built templates to build fast, responsive websites
#7
Increase your web page loading speed with edge servers located in 6 locations
#9
Unbelievable pricing - the lowest you will ever find
#10
Everything your business needs - 50 apps, 24/5 support and 99.95% uptime
Join the SaaS Revolution
All-in-One Suite of 50 apps

Unbelievable pricing - ₹999/user

24/5 Chat, Phone and Email Support