How Much Does It Cost To Hire A Designer To Build A Website?
In our current day, people like using the internet for a variety of objectives.
People love to use the internet to fulfill various purposes in this modern era. For example, some love to shop online, some like to stay in touch via social media, and some want to watch movies and listen to their favorite songs. However, apart from the entertainment angle, the internet is also helpful for modern businesses.
Almost every big and small scale companies have a business website. In fact, without a proper business website, it will become difficult for a company to stay on par with its competitors. This is why the demand for an experienced web developer is rising worldwide. Indeed, hiring outside talent to develop a business website for your company involves money. Thankfully, some tools can help you build your website within a few minutes.
What Is A Website Builder Software?
You must be aware of website builder tools available in the market. This special software helps you create HTML websites without entering any codes manually. Instead, the creation takes place at the backend of the system. At the same time, the website structure, design, and layout are carried out with the help of a user interface, which is available with the tool.
There are different types of website developer tools. These do vary from each other in terms of simplicity. Nonetheless, a good quality website developer software will always aim to assist anybody in developing a website without requiring any assistance from a professional designer. With the help of drag-and-drop tools and a WYSIWYG editor, any person will be able to create a website.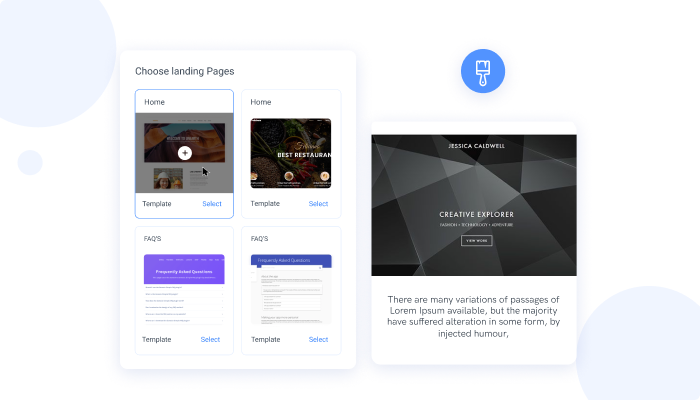 NinjaSites Helps You Design Sleek, Professional, and Custom Websites If you are looking for website development software to help you build unique and customized websites, then NinjaSites is the answer to your woes. Apart from developing websites, the software also helps you with SEO-related concerns with its integrated SEO tools. In addition, you can manage your website content with a CMS, safeguard your website with free SSL certificates, and boost your website page visibility.
Do you already have a brand image and logo in mind? Then NinjaSites can empower you to design a fast, responsive, and user-friendly business website. NinjaSites comes with pre-built templates.
Features
NinjaSites comes with a wide array of valuable features that makes the website building process as smooth as possible. Some of these features are listed hereunder for your reference.
Create Your Website with Easy Drag and Drop Builder Sign Up 14 Day Trial
Built-In SEO
Creating a business website is not the end of your road. You also need to ensure that it is easily visible to online viewers. This is where SEO comes into play. NinjaSites comes with built-in SEO tools that help to improve your website's search engine rankings.
You can develop a website that will be SEO-friendly, which will increase your website page rankings, page views, and impressions. With the help of this feature, you can also optimize your business website automatically for Google Page Speed.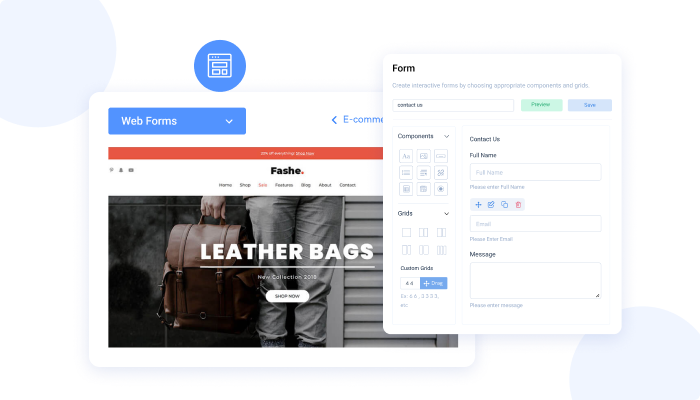 Website Builder
The NinjaSites software is one of the best user-friendly website-building tools available for you. It helps you create a customized business website within minutes. In addition, you can take the help of pre-designed layouts for different sections of your website. This feature lets you personalize the structure of your website without facing any difficulties.
WebForms
Do you require your business website to have web forms? NinjaSites can help you with that as well. You can create forms for your website instantly on the go. There is no need for you to worry about facing any challenges while designing a typical business website structure. You can create powerful web forms for different web pages and collect vital information with suitable forms to use in various marketing activities.
Sometimes, you may need to design contact forms that will match your brand. This is possible with this feature. Developing gorgeous contact forms will help your online viewers contact you without revealing your email address.
It has become crucial for all businesses to have their websites. This not just helps them increase their sales, it also helps businesses get better exposure to the world. The more people get to know about a company's products and services, the better chance of staying on par with its competitors and succeeding in the competition.